Info
tungu.
shortfilm 2012
A short which adapts a novel from Georg Klein, which worked with me on the film. It's about a tribe, which lives in the rainforest and starts to pray to a skull-god. The novel is from his book "Die Logik der Süße" (The logic of sweetness).
Reaction
Festival
---
Web
---
DVD
---
TV
Quote
In gewisser Weise folgt Tungu einem alten Dilemma der ethnologischen Feldforschung. Es geht um die Frage, inwiefern ein Kontakt mit der Zivilisation indigene Völker beeinflusst – und vielleicht auch "verdirbt".
Rühl und Klein haben sich dieser Thematik auch stilistisch angenommen: Die im Hintergrund vorgetragene Erzählung (von Klein selbst gesprochen) wird durch eine experimentelle und düstere Bildsprache, einer interessanten Mischung aus Computereffekten, Aquarellen und Animation ergänzt, die dem Mysterium der Tungu – und deren Verfall – angepasst scheint. Was zunächst etwas schwerfällig beginnt, entwickelt im Verlauf der acht Minuten schnell eine eigene Dynamik, nicht zuletzt auch wegen der Frage, was die Tungu denn nun zu ihrem Kulturwandel bewegt hat. Die Antwort wird hier natürlich nicht verraten.
Eike Kühl, zeit.de
---
Dark and thought-provoking short film from German student Marc Rühl. It tells the story of a disastrous encounter between an isolated tribe and civilization. A veritable cornucopia of slick compositing and other VFX. Definitely check out the making of.
Michael Cumming, michaelcumming.com
---
Tungu, A collaboration between filmmaker Marc Rühl and author Georg Klein (who features as the 'floating head' in the movie) is a complex mix of live action and animation based on the book Die Logik der Süße (The logic of sweetness). Taking around six months to shoot, paint and animate, Rühl's dark, futuristic style perfectly complements Klein's imaginative narrative.
El Vez, directorsnotes.com
Process
concept
I read Georgs novel about 30 times, till I had enough pictures in my mind to start making the animatic. After finishing the first version Georg and I discussed, which shots need to stay the same or have to be changed. The final version, which you can see here, should be the third or fourth, if I remember correctly. Unfortunately my reading-speed overruns Georgs by far.
---
Shoot01
After deciding that the narrator has to be in a kind of bubble, I shot a decoration hemisphere out of acrylic glas in a small aquarium, to compose it with the shots of Georg.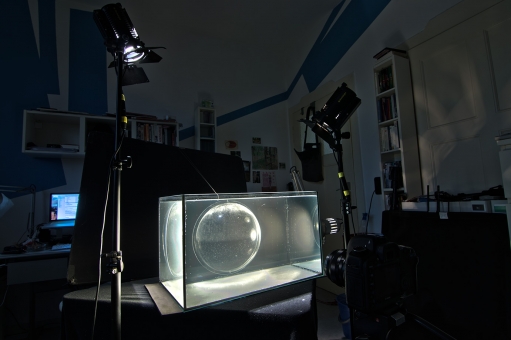 The particles are gypsum dispersed in the aquarium, cause I made bad experiences with flour. Then the footage was rotated by 180°.
---
Shoot02
After finishing the animatic Georg visited me in Offenbach to record his voice in the sound studio of the HfG. Afterwards we shot the matching video footage, in a fairly improvised studio. Here you can see the light-setup for the shots.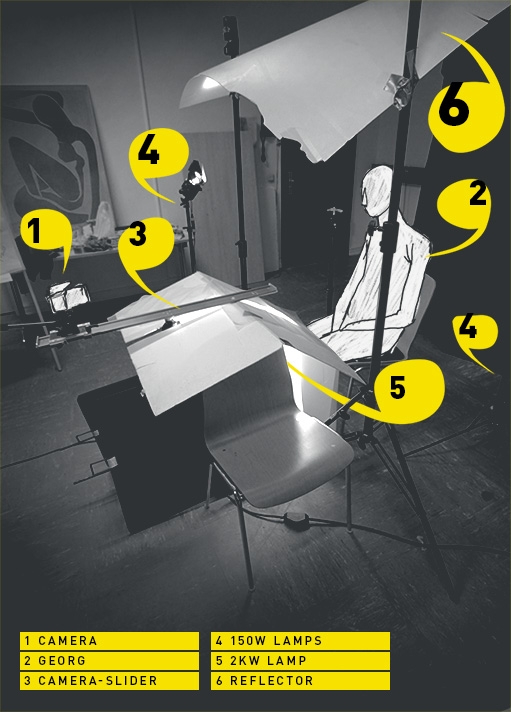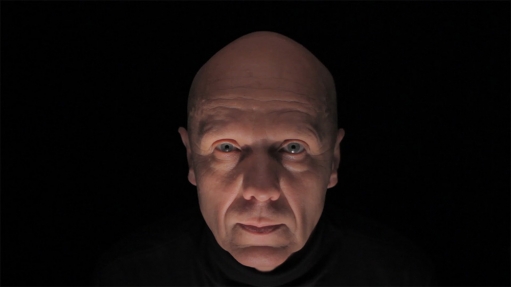 ---
Shoot03
In the following week we invited Lin-Nan Zhang, which played the tungu, at the photo studio of the HfG. There we shot all full-body shots of the tungu and the special-units.
---
Post-Production
The next months I shot all details, painted water-colours and composited everything in After Effects. I used Photoshops often underestimated video-features for the sketched animation. Unfortunately it seems Adobe doesn't develop it anymore.
Except of the shot, in which the book falls from the sky, which I made in blender, every shot is filmed, photographed or painted and animated in After Effects.
A few examples, how a shot is constructed is seen in this video. A few other in the pictures below it.
Persons
direction/cinematography/animationMarc Rühl
story/narratorGeorg Klein
tunguLin Nan Zhang
photographyHeinrich Zimmermann
gafferThomas Kneffel
make-upKatharina Rachor
soundrecordingKay Bader | Bernd Zimmermann
musik | sounddesignKay Bader
soundmixingBernd Zimmermann
project supervisionRotraut Pape
produktionÉléphant Terrible | HfG Offenbach
thank youRotraut Pape | Felix Schmilinsky | Jan Eichberg | Ivan Robles Mendoza | Michael Jordan | Kai Rühl | Lernstudio Medizin Frankfurt | Hairdesign Birol
To the top